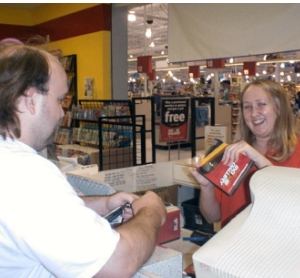 You can always find a great deal here at Movie Gallery. We try to thank our customers for their business by offering great savings on our already low prices!
There are several ways to save ANYTIME such as:
the 4-Pack
Rent 3 of ANY item in our store and get the 4th one free. You can even mix and match games and movies to ensure that everyone in your family leaves with SOMETHING they will enjoy.
Reel Players Club
Membership is free to join the Reel Players Club. Members of Reel Players take advantage of earning free rentals by renting. Thats right, every rental item is valued with points and when you get 12 points you have earned yourself a free rental!
5 for 5 for $5.99
Rent any 5 Gallery Movies for 5 nights for ONLY $5.99!
You can also save by taking advantage of some of our great Promotions (limited times) like:
Discount Rental Cards
There are 3 ways to save with the Discount Rental Card.
a) Save Big with The Discount card. It is available to you for ONLY $19.99. That's right you pay $19.99 and get $27.00 worth of rentals. Get the most out of your card by combining it with the 4-Pack and SAVE even more!
b) The Mega Discount Rental Card. Get $25 worth of rentals FREE when you buy MEGA. This great value is available to you for only $49.99! Wouldn't you like to have $75 worth of rentals for only $49.99!
c) New Member Discount Rental Card. Thinking of becoming a member of Movie Gallery so you can cash in on all the savings... buy a Discount Rental Card upon opening your membership and we'll take $2.00 off! That's right, you'll get $25 wroth of rentals for ONLY $17.99! WOW, what a deal!